You can submit a request for a partial or complete withdrawal of an application to the land title office.
Withdrawals submitted electronically are immediately associated to the related application and assigned to the next available examiner.
Request a Withdrawal of an Application
---
Locate and open the package you want to withdraw. If you need help finding a package, visit View Packages.
You'll be taken to the View Package page.
---
Click Request Withdrawal
You'll be taken to the Request Withdrawal page.
---
To submit a withdrawal request:
If you are withdrawing the whole package, select the topmost checkbox
If you are withdrawing an individual application(s), select the checkbox(s) next to the application number(s)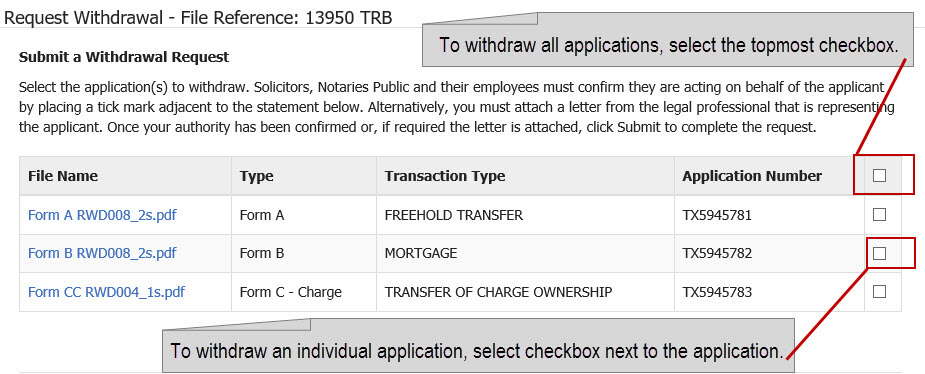 ---
Select an authorization option
If you are the Solicitor or Notary Public acting on behalf of the applicant(s), or an employee of the Solicitor or Notary Public, select the first option. A letter of withdrawal is no longer required.
Select the second option if you are attaching a letter of withdrawal
---
Click Continue
You'll be taken to the Confirm Withdrawal Request page.
---
If your request entries are correct, click Submit
If you selected the first authorization option, you'll be taken to the View Package page and a Withdrawal Request appears as pending in the package. An Acceptance Notice is sent to your inbox.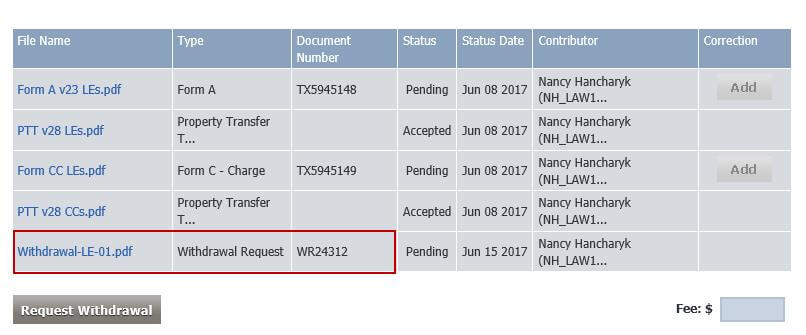 If you selected the second authorization option, a file browser window opens. Navigate to your file and select the withdrawal letter in PDF format and click Open to submit it.
---
After you click submit, the withdrawal request is received and will be reviewed by an examiner
---
To open and view the request, click on the Withdrawal<File Name>
---
After an examiner has processed the withdrawal request, the status will change to Allowed or Denied
---
Check your myLTSA inbox and email, depending on your forwarding options, for a Withdrawal Notice. If the withdrawal request is denied, check your inbox for a Denial Notice.
 For more help on working with packages, visit