To apply your digital signature to an electronic form:
---
Review the completed electronic form to ensure that it is correctly filled out
---
Save a copy of the completed, unsigned form
---
Double-click the empty electronic signature box at the top/bottom of the form to be signed

---
In the Sign Document Digital ID box, enter your digital certificate password, and if not already selected, select the appropriate appearance profile (e.g., "For EFS Signing") from the pull-down selection list (See Set Electronic Signature Appearance Options). Click Sign. The document is now electronically signed.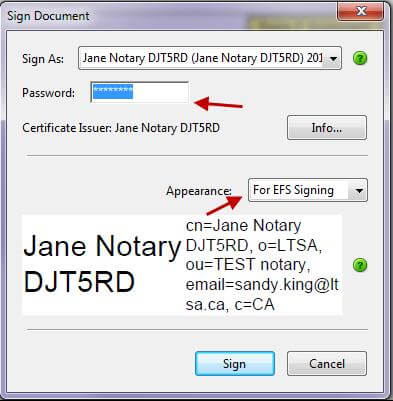 ---
In the Save As dialog box, you can optionally select a different destination folder and specify a new filename for the signed form file

A good convention is to just add the suffix "signed" to the filename
---
Click Save to sign and save the form file. Your electronic signature is applied to the file and a notation inserted into the electronic form.
The Acrobat feature "Undo or Clear Signature" is not supported by EFS. Any attempt to undo or clear a digital signature will remove all data and cause the electronic form to be rejected in EFS. It is recommend that you save a draft version of the filled-in document before you sign and save it, in case you need to amend the document.