Once all Meet Contributors have approved the Meet, the Meet Originator's package status indicates Approved on the Submit Package to the Land Title Office page and lists the Contributors' approvals.
Submit a Meet
The Meet Originator should follow these steps to submit a Meet
---
From any page of the LTSA's Electronic Services, rollover Submissions and click View Submission Dashboard or View All Packages to locate your Meet package
---
Click the package name to open the Meet package in the Submit Package to the Land Title Office page
---
The Meets Approvals will indicate that the Contributor(s) have approved the Meet and the order of registration
---
Review the files added to the Meet package
---
Determine whether to leave Receive notice of registration? checkbox at the default which indicates you wish to receive the notice. It will be sent to the Originator and all Meet Participants.
---
Determine who will pay the fees. If you wish to pay all fees for the package check the appropriate checkbox. Leave the checkbox blank to request that each Meet Participant pay their fees for each file in the package.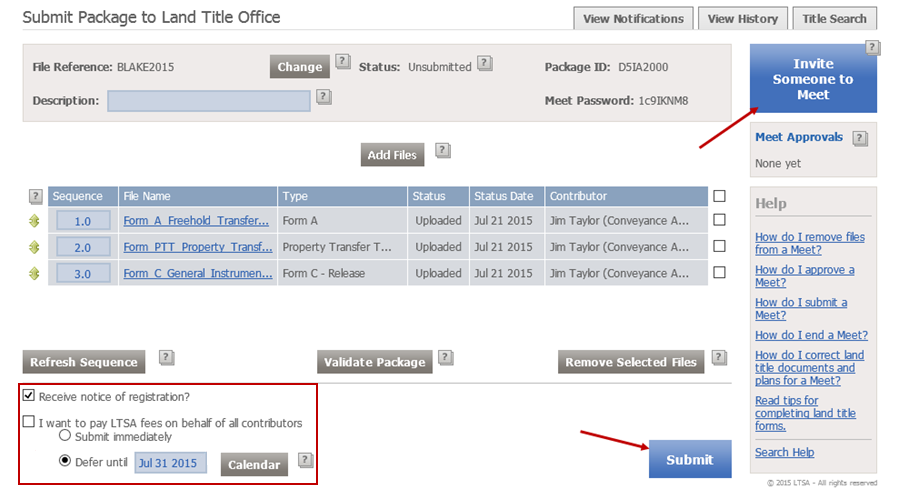 ---
Optionally, click the View History tab to see the history of the package and to review all of the changes which occurred in creating and submitting the package including the name of the party who made the changes. Click the Submit Package tab to return to the Submit Package to the Land Title Office page.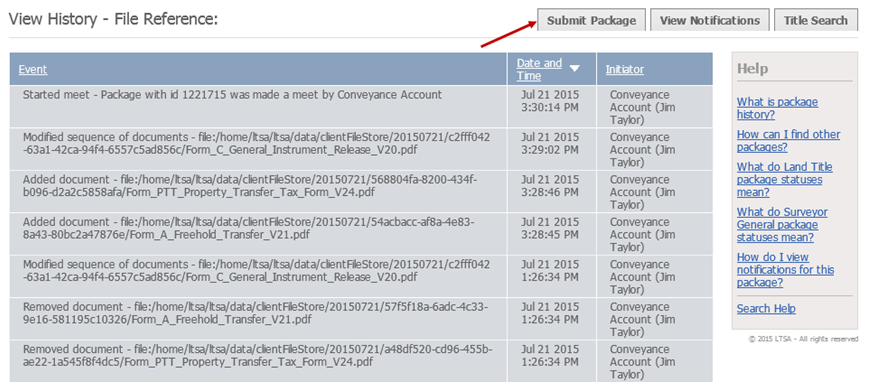 ---
Click Validate Package to check basic validation rules detected by EFS (optional)
---
Once satisfied that the package is ready for submission, click Submit
---
A Notice of Receipt is delivered to the Originator and all Participants. The Notice of Receipt can be viewed in the package's View Notifications tab or by rolling over the Submission menu item and clicking View All Notifications.