Parcel Activity Notifier subscriptions are available to be renewed 30 days before they expire.
Two expiry notices will be sent:
14 days before a Parcel Activity Notifier Subscription expires
72 hours before a Parcel Activity Notifier Subscription expires
If renewed prior to expiry, the new subscription provides continuous monitoring and maintains in the subscription details a record of the subscription history and parcel activity. Renewals are billed on the renewal start date.
An expiring subscription can be renewed by any user in your myLTSA account. To access all subscriptions in your account, filter by My Group's Subscriptions on the Manage Parcel Activity Notifiers page. The subscription history for each Parcel Activity Notifier subscription will record when and which user renewed the subscription.
Renew a Parcel Activity Notifier Subscription
---
From any page of the LTSA's Electronic Services, rollover Other Requests and click Manage Parcel Activity Notifiers. Scroll down the page to the list of subscriptions and locate the subscription you wish to renew.
Subscriptions soonest to expire are sorted by default to the top of the list. Those expiring within 72 hours or less are marked with an exclamation point. Once a subscription expires, a new subscription will be required to continue monitoring parcel activity.
---
Once you have found the subscription you wish to renew, click the parcel identifier in the Parcel Identifier column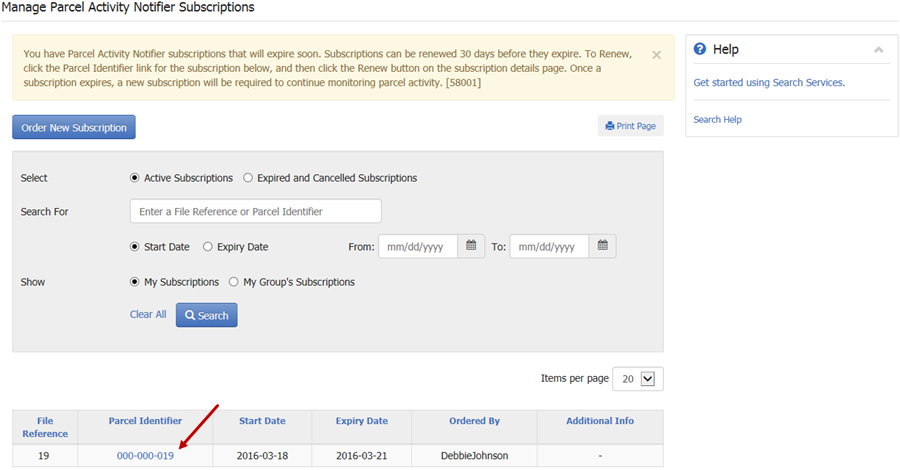 ---
Click Renew Subscription in the top right of the page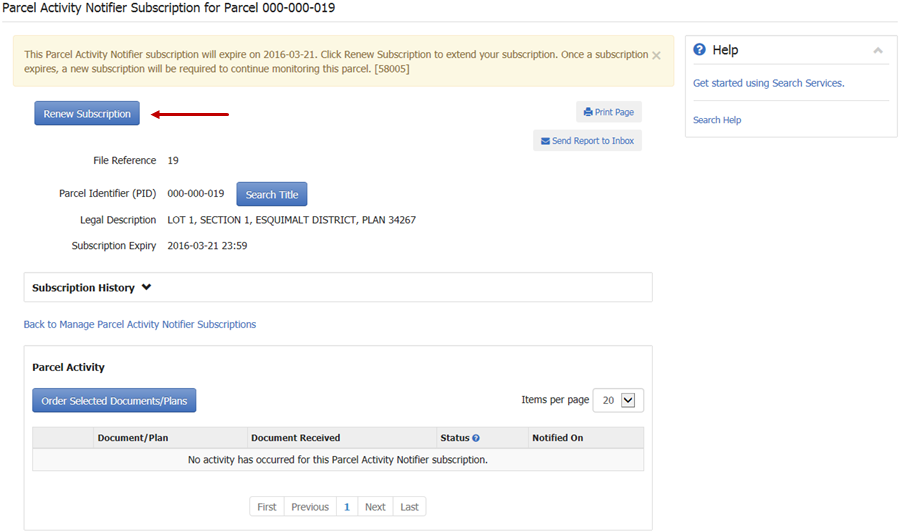 ---
Confirm the renewal start and end dates, and click Purchase to immediately complete your order. Optionally, click the Preview Order Details to review and/or print the details of your order prior to purchase. Then, click Purchase to complete your order or Back to return to the Renew page.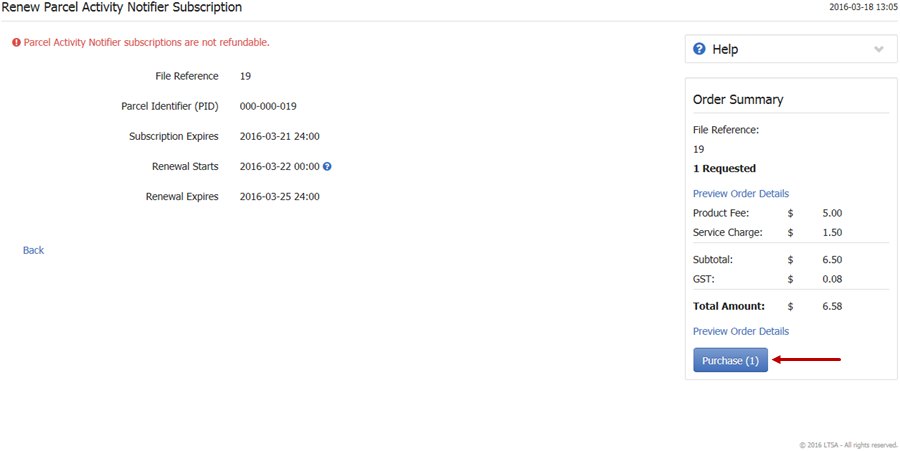 The renewal will use your existing file reference or none if you did not provide one in the original order. The file reference cannot be modified for a renewal.
---
If successfully renewed, a confirmation message is displayed on the Manage Parcel Activity Notifier page and sent to your myLTSA Inbox and email if forwarding options are set. In the below list of subscription, a note is added in the Additional Info column for the subscription to record the start date of the renewal.
Your account will be billed for the renewed subscription on the renewal start date. Parcel Activity Notifier subscriptions cannot be cancelled until the renewed subscription begins if they have a pending renewal. All subscriptions are non-refundable.