Using the Parcel Activity Notifier service, you will be notified when a legal notation, register correction or pending activity affects a parcel of land you have chosen to monitor.
Pending activity includes a transfer of land, claim of builders lien, mortgage, judgment, or statutory right of way. 
All Parcel Activity Notifier subscriptions are for a fixed period of 180 days and can be renewed repeatedly until monitoring is no longer required.
Please be aware that in the unlikely event a legal notation or the remarks of a charge are endorsed (i.e., text is added) without an application submitted against the monitored parcel, a Parcel Activity Notifier alert will not be delivered. It is expected that the Parcel Activity Notifier service will be expanded to include notification of this activity.
Order a Parcel Activity Notifier Subscription
---
From any page of the LTSA's Electronic Services, rollover Other Requests and click Order Parcel Activity Notifier
You can also order Parcel Activity Notifier subscriptions via the Manage Parcel Activity Notifiers page or on the View Title Information and Order Documents/Plans page in the side panel after requesting a title search.
---
Enter up to 15 alphanumeric characters in the File Reference field to uniquely identify your transaction. See Using a File Reference. Depending on your organization's account management setting for file reference, this may be a required field.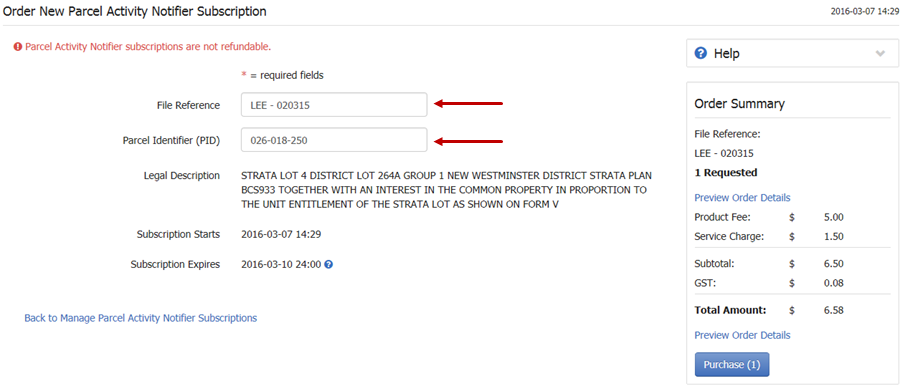 ---
In the Parcel Identifier (PID) field, enter the 9-digit parcel identifier (PID) number of the parcel that you want to monitor
---
Optionally, click View Legal Description to verify the full legal description associated with the parcel
---
Click Purchase to immediately complete your order
-OR-
Optionally, click the Preview Order Details in the Order Summary to review and print the details of your order prior to purchase. Click Purchase to complete your order or Back to return to the page.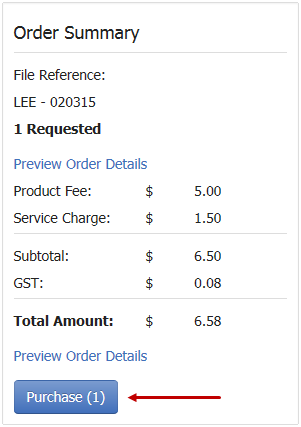 You will be informed if another user in your account is already monitoring the requested parcel. To view all subscriptions ordered by your account, return to the Manage Parcel Activity Notifiers page and filter by My Group's Subscriptions.
---
If successfully ordered, a confirmation message is displayed on the Manage Parcel Activity Notifier page and sent to your myLTSA Inbox and email if forwarding options are set. A link to the subscription is also added to the table below. Click the parcel identifier link for the subscription to view its details including the subscription history and parcel activity if there has been any. Click Send Report to Inbox to send a report of all subscription activity to your myLTSA Inbox and email depending on your forwarding options.

Parcel Activity Notifier alerts are given priority status in the myLTSA Inbox, and as such, are displayed in red at the top of the list. If you do not regularly monitor your myLTSA Inbox, it is recommended that you set forwarding options to also receive notices to your email. See Forwarding Options