Use this search method when you wish to search for all titles or pending applications associated with a parcel identifier (PID).
Search for Titles by Parcel Identifier
---
From any page of the LTSA's Electronic Services, rollover Searches and click Title Search
---
Enter up to 15 alphanumeric characters in the File Reference field to uniquely identify your transaction. See Using a File Reference. Depending on your organization's account management setting for file reference, this may be a required field.
---
In the Parcel Identifier (PID) field, enter the 9-digit parcel identifier (PID) number
To add up to 30 additional PIDs, five at a time, click Add More Fields.
---
Optionally, to include cancelled titles in your search results, select Include Cancelled Titles
All cancelled titles available for a PID in electronic format are listed. Titles which have not been converted to electronic format must be obtained at the land title office.
---
Optionally, you can adjust your title search options. See Set Title Search Options.
---
Click Search. This searches all land title districts in the province or the land title district you have selected.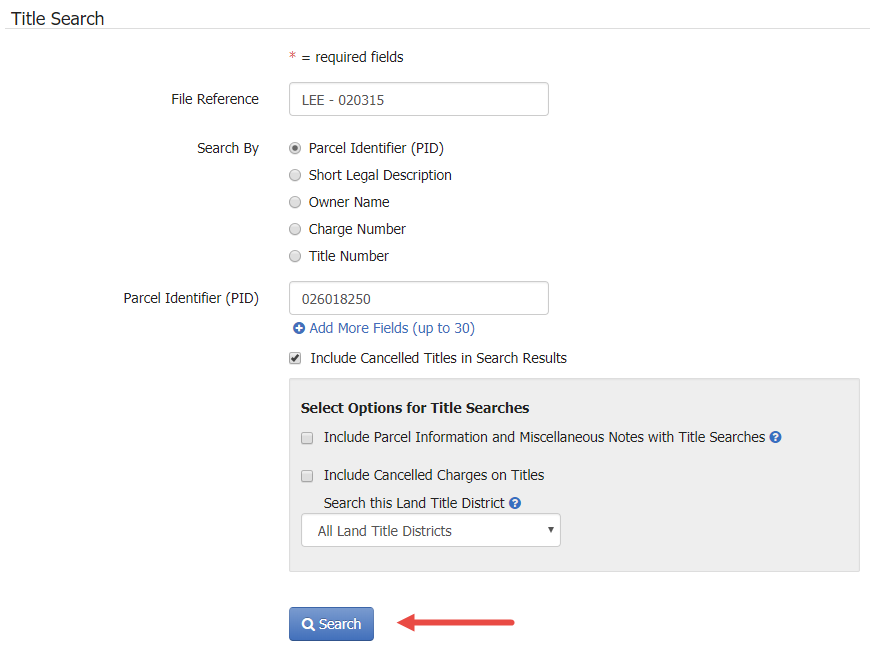 Title Search Results
---
If a parcel identifier matches your search, the Title Search Results page will appear displaying the total number of search results found and the land title district that was searched.
Above the search results table, the PID, the short legal description, and any pending applications by number and nature of interest are also displayed. You can rollover the short legal description to view the full legal description.
A Pending number is assigned when a document is electronically filed or presented to a land title office. The Pending number is then attached to the parcel identifier for the property. As the name suggests, the nature of the document has not taken effect, but it is pending. When LTSA staff have examined and approved the document, the details will be entered in the land title register. The letter "D" adjacent to the pending number indicates that the document has been defected.
---
Listed after this are any associated titles sorted by date of receipt
For each title, only the first registered owner name on title is displayed. There could be other registered owner names.
Cancelled titles will only appear in the list if you had selected Include Cancelled Titles
Adjust the number of rows in the table by changing the Items per page drop-down to 20, 50 or 100. The default is 20. Changes are automatically saved for all search result lists.
If there is more than one page, click First, Next, Previous or Last to navigate between pages, or click a page number to jump to a specific page
Click Print Page if you wish to print the contents of the page
Click Send Copy of List to Inbox to deliver a copy of the title search results table in PDF format to the myLTSA Inbox and email if you have set up forwarding options
---
You can hover over the ellipsis icon next to the title number for other ordering options:
Click View Parcel Information and Miscellaneous Notes to display for free the Parcel Information and Miscellaneous Notes page
Click View Corrections to display for free any corrections that were made to a title (e.g. corrected spelling mistakes)
Click Order State of Title Certificate to proceed to the Order State of Title Certificate page. This option is only displayed for registered titles.
Click View Strata Plan Common Property if you wish to view for free the common property record or for a fee Search Strata Plan General Index to begin a Strata Plan General Index search. These options are only displayed for strata titles.
Purchasing Titles
---
Select one or more titles to purchase
---
Your selection automatically updates the Order Summary box with the number and cost of the selected items. The Purchase button will also display the number of items you have selected. You can also modify the file reference from this page by changing the text in the field at the top of the page if desired.
---
If you are satisfied with your selection, click Purchase to immediately complete your order
-OR-
Optionally, click Preview Order Details in the Order Summary to review the details of your order prior to purchase. You can print the Preview Order Details page by clicking Print Page. On the Preview Order Details page, click Purchase to complete your order or Back to return to the Title Search Results page.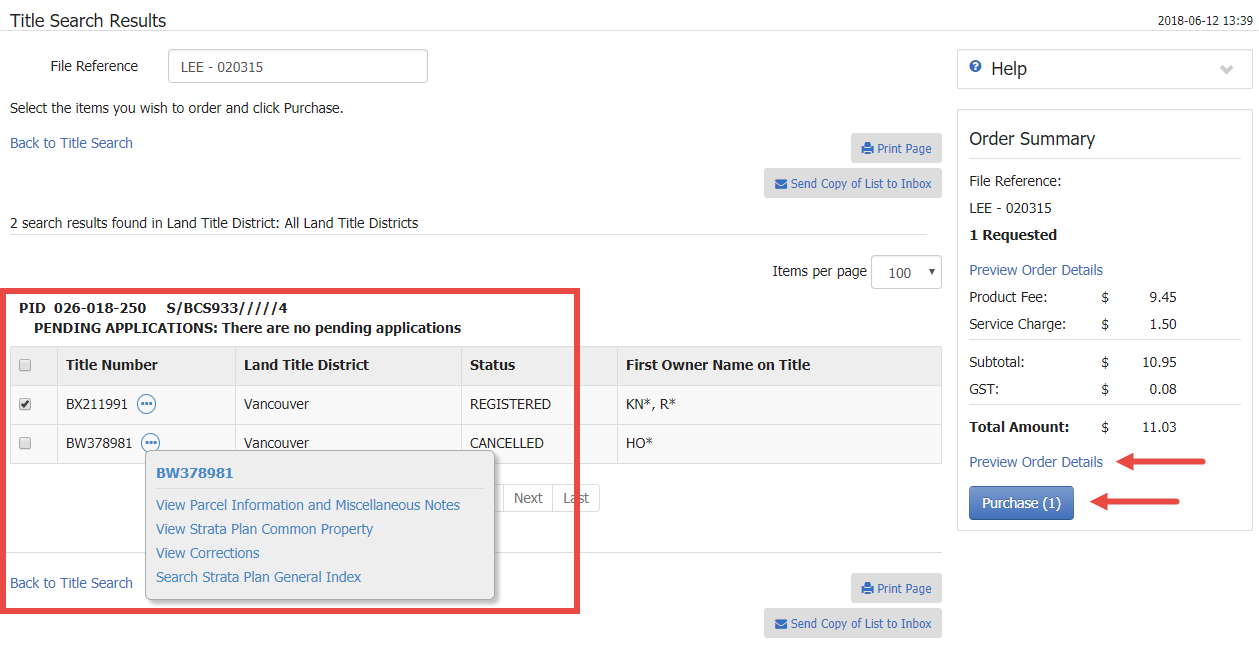 ---
The items are delivered to your myLTSA Inbox and email address if you have set up forwarding options. Your order will include for free the common property record if you have ordered a strata title and/or parcel information and miscellaneous notes if you have set this as a preference.
If you have purchased multiple titles, you will return to the Title Search page and can conduct a new title search
If you have purchased a single title, you will be directed to the View Title and Order Documents and Plans page where you can view title information, modify the format, and order documents and plans listed on title