With respect to land, title is the proof of ownership of the fee simple estate and other lesser estates, such as charges (leases, for example). A title is issued by the registrar of land titles in accordance with the Land Title Act. The title is the key entry in the land title register. It includes the registered fee simple owners, the legal description of the parcel any filed legal notations and registered charges.
A charge is an interest in land less than the fee simple estate that is registered on the title, such as a mortgage, easement, statutory right of way, claim of lien or judgment. Charges are shown in the Charges, Liens and Interests section on the title. The information provided for the charge includes the transaction type, registration number, date and time of application and the registered owner of the charge.
Cancelled Titles
Cancelled titles or historical titles refer to any title previous to the current registered title for the same legal description.
Including Cancelled Titles in myLTSA Enterprise
To include cancelled titles in title search results using myLTSA Enterprise, select the Include Cancelled Titles in Search Results checkbox. Cancelled titles can only be searched using a parcel identifier (PID), a short legal description or a title number.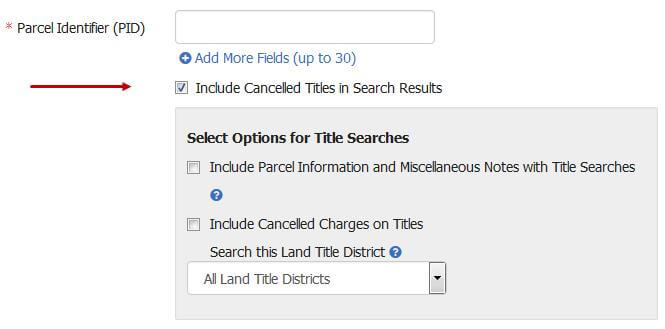 The cancelled titles will be listed in the search results under the registered title. The list of cancelled titles will show all cancelled titles that are available electronically.

There could be older cancelled titles associated with a specific PID or short legal description that are only available in hardcopy from a land title office. Please contact an independent registry agent for hardcopy historical title searches.
When viewing a cancelled title, the date the title was cancelled is displayed just above the Registered Owner information.

Cancelled Charges
When viewing a current title, cancelled charges are filtered out. To view cancelled charges, you must request cancelled charges be included in the title view. Each cancelled charge will show the date the charge was cancelled and the application number of the document it was cancelled by. Cancelled information is displayed in bold on the title.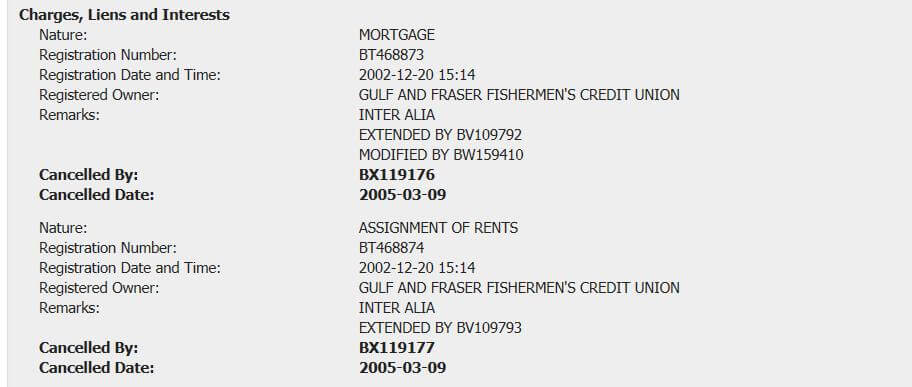 Requesting to show cancelled charges will also display other cancelled information such as cancelled legal notations and corrections to the title.

Including Cancelled Charges in myLTSA Enterprise
To include cancelled charges, select the Include Cancelled Charges on Title checkbox and then cancelled charges will be displayed on title. With the checkbox selected, this will now be the default format of the title delivered to your myLTSA Inbox. myLTSA Enterprise customers can also toggle between current only and current and cancelled information when viewing a title.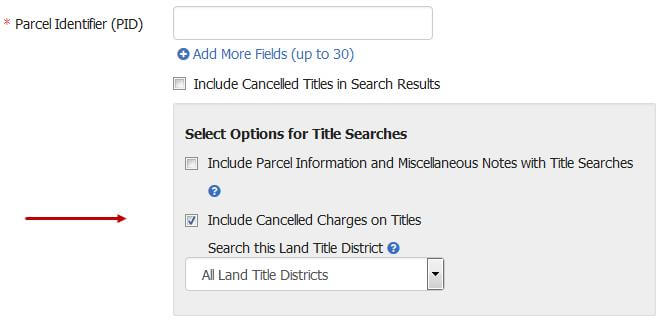 Including Cancelled Charges in myLTSA Explorer
To include cancelled charges, select the "Show Current and Cancelled Charges" checkbox and then cancelled charges will be displayed on title.