This service is for developers and their agents to register pre-sales of condo and strata developments using myLTSA Enterprise. The first step is to Add a Development, then Add Assignments and File a Report.
When accessing the Condo and Strata Assignments page, you may be asked to enter your myLTSA login credentials again for additional security.
Add Developments
---
From any page of the LTSA's Electronic Services, rollover Submissions and click Condo and Strata Assignments
---
Click Add Development
---
Enter the details for the Development and Developer.
Reporting Stages: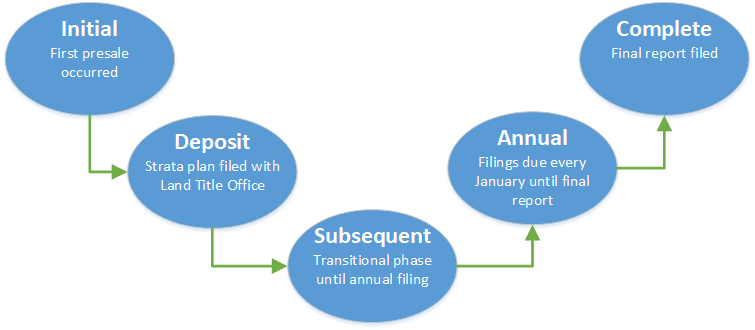 Add Assignments
---
After adding a Development, click Add Assignments to your Development.
---
Enter the details for the assignment information. There are a number of pages of assignment information including Assignment, Assignor and Assignees. The Review page will show a summary of all data entered.
---
Select Assignor type and enter the details for the Assignor. 
---
Select Assignee type and enter the details for the Assignee. 
---
At the Review page you will get confirmation of any missing mandatory fields.  You can save the assignment, but all mandatory fields must be complete prior to filing.
File Report
The filing window is the first 30 days following the end of each quarter.  When the filing window is open, the File Report button will be available and the Report Status will show Filing Required.
---
From the Developments page, the Assignment Info state must be Complete. In the Action column, click More and File Report 
---
Review Assignments and Fees.
---
Select Development Status and Declaration.
---
You will receive confirmation that your report has been filed successfully.
Report Status: