The Download Search Results tool allows land surveyor and their employee delegates to download ParcelMap BC search results.
Downloads are delivered to your myLTSA Inbox and may be forwarded to an email address based on your forwarding options.
Download Search Results
---
Make a selection using the search tools
---
Click the Download Search Results icon

---
Enter a File Prefix of up to 15 characters to specify your download. Omit special characters and spaces. This prefix will be used to name the download file.
---
Choose Download Product. CAD or GIS format options are available.
---
Click a checkbox to include one or more of the following in the download product. All are selected by default.
Parcels (Lines and Annotation)

Parcels (Points)

Survey Controls (Points)
---
Select a Coordinate System from the drop-down menu
---
An estimated file size will be displayed based on your selection
---
Click Download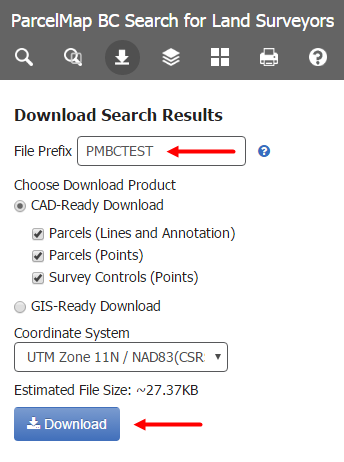 ---
Once processed, it will be delivered to your myLTSA Inbox and email if forwarding options are set. Processing typically takes 5 minutes or less.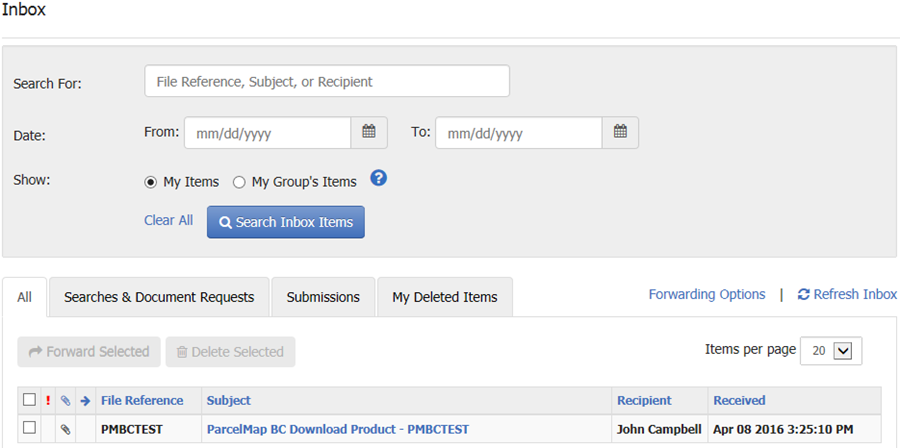 ---
The download consists of a compressed file sent in .zip format. You will need to extract the .zip file first in order to view the contents. If you are using a version of Windows prior to Windows 7 or on a MAC platform, you may need to download an additional application to extract the .zip file.