When printing a report, please note that the map image is not consistent with the scale bar or scale text shown on the report. A disclaimer has been added to the Print Report screen to notify users about this discrepancy. Please be assured this issue only affects the Print Report function; the on-screen display scale remains accurate.
Use the print feature to print what is displayed in the ParcelMap BC parcel fabric.
---
Pan and zoom to the location you want to print. Ensure all the layers that you want to print are selected with a check mark. Any layers that should be omitted should not be checked.
---
Click the Print Map icon

---
Optionally, enter in a name for your print in the Map Title field
---
Select a Layout from the drop-down menu to specify the paper dimensions of the printed map
---
Select a Format from the drop-down menu to specify the output format of the printed map
---
Optionally, click Advanced for more options to customize the printed map
---
Click Print to generate a PDF print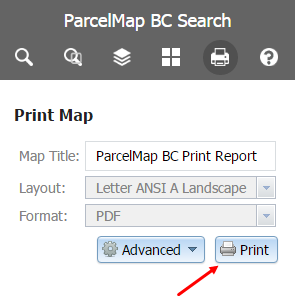 ---
To view the printed map, click the map title link. Once the PDF print has opened in the PDF viewer, you can save or print the map to a physical printer.
---
Your prints will be retained for your session. To remove any printed maps generated, click Clear Prints or logout of myLTSA which will automatically clear the prints.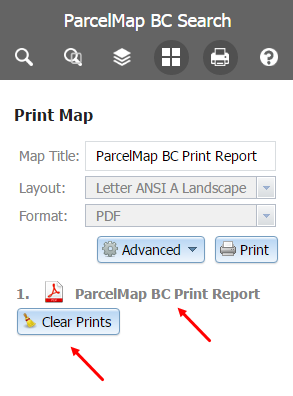 A known software bug will prevent printing if a locate pin is in on the map. Clear all pins by clicking the trash can icon if you encounter an error when printing.