All myLTSA users are prompted to select from the email communication options after logging in to myLTSA for the first time.
This requires a one-time set up and is set individually by each user. You can change your options at any time.
Email Communication Options
Land Title Matters sent as required includes important legislative, practice and policy matters from the Director of Land Titles of British Columbia:
Significant policy and legislative changes affecting requirements for practitioners
New practice initiatives
myLTSA System Disruption and System Enhancement Updates sent as required includes:
Planned outages and service bulletins, including instructions for alternative search and filing procedures
myLTSA Search and Filing enhancements
LTSA E-Newsletter sent monthly includes:
Updates on major LTSA land title and survey projects
Tips on using myLTSA
Links to Business Plan and Annual Report
Corporate changes, including a summary of news items published to the LTSA's website
Summary of practice and policy changes
Occasional requests for feedback
myLTSA users may also automatically receive communications by email about important land title and survey practice and policy changes that directly relate to their profession and/or use of myLTSA.
Changing Your Email Communication Options
---
Click My Preferences link on the navigation bar at the top of the page and then click the Set Email Communication Options link
---
Change any of the available email communication options
---
Click Save to confirm your selection. A confirmation message will be displayed on the My Preferences page.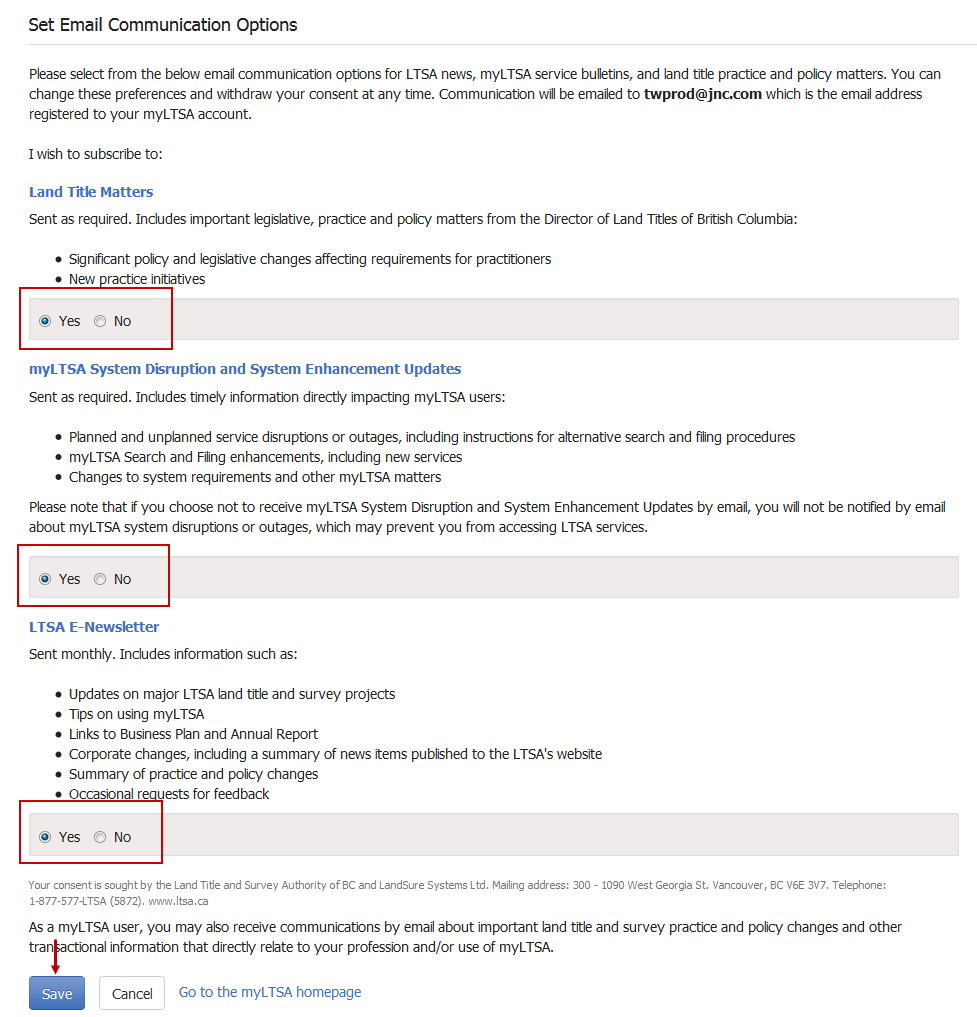 ---
If you wish to leave this page without making any changes or discard your changes, click Cancel to return to the My Preferences page. Click the Go to the myLTSA homepage link to return home.
If you do not have a myLTSA account, you can subscribe to receive LTSA's news, myLTSA service updates, and land title practice communications on the LTSA's website.