To submit a package to the Surveyor General:
---
From any page of LTSA's Electronic Services, rollover Submissions and click Submit Package to Surveyor General
---
A pop-up dialog will appear requesting a File Reference. Enter your internal file reference and click Submit. This is a mandatory step to go to the Submit Package to Surveyor General page. The Submit Package to Surveyor General page will be displayed.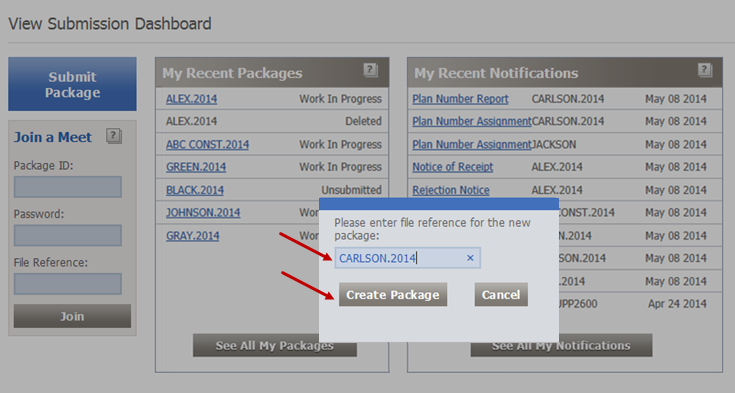 ---
Your entry has populated the File Reference field on the Submit Package to Surveyor General page. You can change the file reference by clicking Change any time until your package is submitted.
Once you have assigned a file reference to your package, EFS automatically assigns a package number and saves your package with an Unsubmitted status.
---
You can provide additional text to further describe your package in the optional Description field. See Identify a Package.
---
Click Add Files. This will cause a file browse window to open.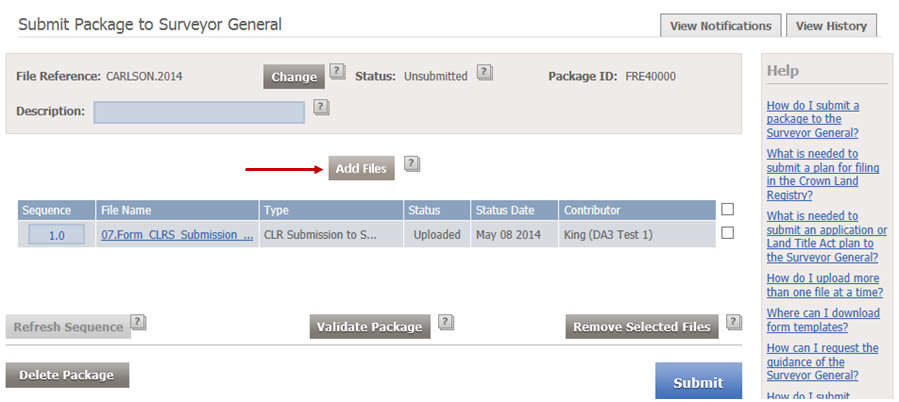 ---
In the file browse window, navigate to the folder where your files are stored. Select one or more files. See Add Files.
---
When you have finished selecting files, click Open to start the upload process. Your files always upload in alphanumeric sequence.
---
Once uploading has finished, the status of each file will be Uploaded or Upload Failed
If uploading failed, you can move your mouse pointer over Upload Failed in the status column to view an explanation of why the upload failed. Some checking is done on each file as it is uploaded but the entire package is not validated during the upload process.
---
Once your files have uploaded, there are a number of actions you can take:
If desired, you can change the sequence of files by grabbing the arrow icons and dragging and dropping files in a new order or by renumbering the files in the Sequence column and clicking Refresh Sequence. See Sequence Files. This is optional as there is no prescribed sequence required for an application to the Surveyor General.
You can remove any files you do not wish to submit. Select the checkbox to the right of the file you wish to delete and click Remove Selected Files. See Remove Files.
---
Optionally, click Validate Package to find out whether the package meets the basic validation rules detected by EFS during initial validation for submission. By validating the package prior to submission, you can fix any basic errors (e.g., missing electronic signatures if required or incomplete mandatory fields) detected by EFS.
---
Click Submit to submit your package for processing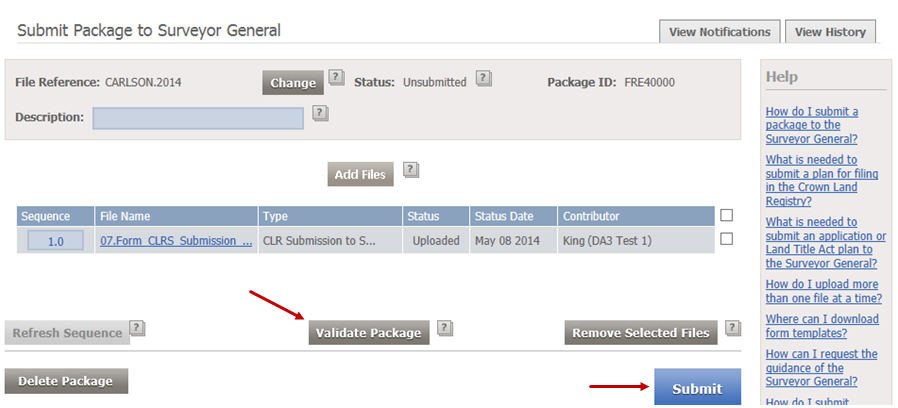 ---
Wait a few seconds while EFS processes your submission
If unsuccessful, you will receive an error message at the top of the page explaining what needs to be fixed in order to complete your submission
If successful, the View Package page appears with a confirmation message at the top of the page stating that your package has been successfully submitted. Your package status is Work in Progress. A Notice of Receipt is sent to your myLTSA Inbox and email if you have set up forwarding options. The notice includes a list of the attachments submitted, date and time of receipt, and the amount of statutory fees, service fees and any applicable tax amounts. Notices are sent electronically to your designated mailbox and can also be accessed on the Submission Dashboard or View All Notifications pages or the View Notifications tab on the View Package page.

You can always return to your package's View Package page if you wish to check the latest status of your package. If the status of your package is Waiting for Information, Defect or Not Approved, you may submit additional information or plan alterations to the package. You can access this page by searching for and locating the package on the View All Packages page or from the Submission Dashboard. See Submit Additional Information or a Plan Alteration to the Surveyor General.