The Tax Certificates Online service provides you with access to municipal tax certificates from participating cities, towns and villages in British Columbia. The service is operated by Access Point Information Canada (APIC).
The Order Tax Certificates page allows you to search and order electronic tax certificates and pay using your myLTSA deposit account.
You may search for tax certificates by:
Parcel Identifier (PID)
Roll Number
Manufactured Home Number
Searching for and Purchasing Tax Certificates
---
From any page of the LTSA's Electronic Services, rollover Service Providers in the navigation bar at the top of the page and click Order Tax Certificates
You can also click Order a Tax Certificate on the myLTSA welcome page.
---
Enter up to 15 alphanumeric characters in the File Reference field to uniquely identify your transaction. See Using a File Reference. Depending on your organization's account management setting for file reference, this may be a required field.
---
Select the criteria you wish to search by and enter the value in the field below
---
Click Search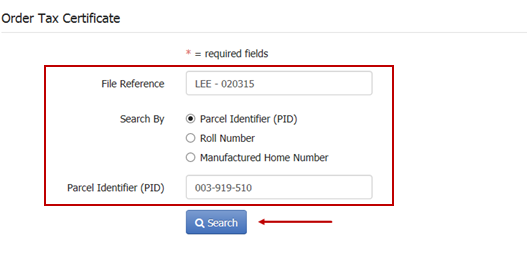 If searching by a Manufactured Home Number or if the system cannot identify the value you entered, you will be required to select the municipality from the drop-down menu.
---
If your request is successful, the Confirm Tax Certificate Order is displayed. The tax certificate with its property and municipality information is selected by default and the contact information fields are pre-populated. Review this information and edit it as desired.
---
Next check the checkbox to agree to provide your consent under the Collection Notice and Consent to Disclosure of Personal Information and agree to the Terms and Conditions of Agreement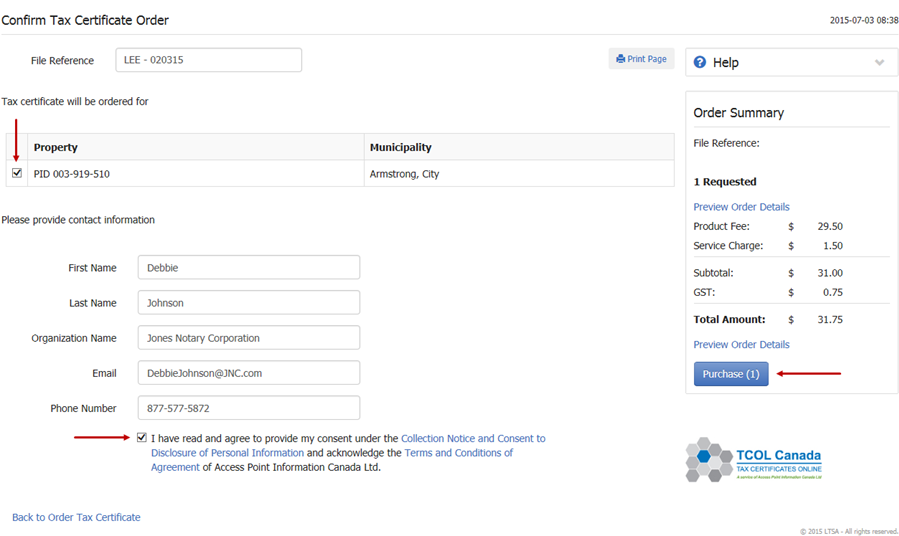 ---
The Order Summary displays the total cost of the selected tax certificate
---
Review the cost and other details of your order. If you are satisfied with your selection, click Purchase to immediately complete your order.
-OR-
Optionally, click the Preview Order Details to review and print the details of your order prior to purchase. Click Purchase to complete your order or Back to Order Tax Certificate to return to the page.
---
You will return to the Order Tax Certificate page and a message will be displayed indicating that your order was accepted. The tax certificate will be automatically delivered to your myLTSA Inbox and email if you have set up forwarding options. It can take a few minutes for the order to process.