Electronic forms are designed to be filled out using Adobe Acrobat (Standard or Professional edition). See System Requirements.
The forms cannot be completed with the free Acrobat Reader software. The Land Title Electronic Forms Guidebook (the "Green Book") contains detailed instructions for most of the forms.
Before filling out any electronic form template, you must download and save a copy of each of the forms on your computer system. Even though it is possible to open and view electronic forms online, you can only submit forms that you have saved on your system.
---
If it doesn't already exist, create a suitably named folder on your system (See Set Up Folders)
---
From any page of the LTSA's Electronic Services, rollover Administration and click Download Form Templates
---
The Download Form Templates page appears displaying a list of available forms, including a zip file containing all of the most recent electronic forms
Some forms may exist in more than one version. Note the Effective Date and Expiry Date (if given) of each form, and download the appropriate version. If you submit an outdated form, the system will warn you that some earlier versions might not be accepted for electronic submission. We recommend that you check this list frequently to ensure that you always have the latest form.
---
To obtain all of the current forms select Click here to download latest version of these forms in a single zip file. Alternatively, click the file you want to download to select an individual form template.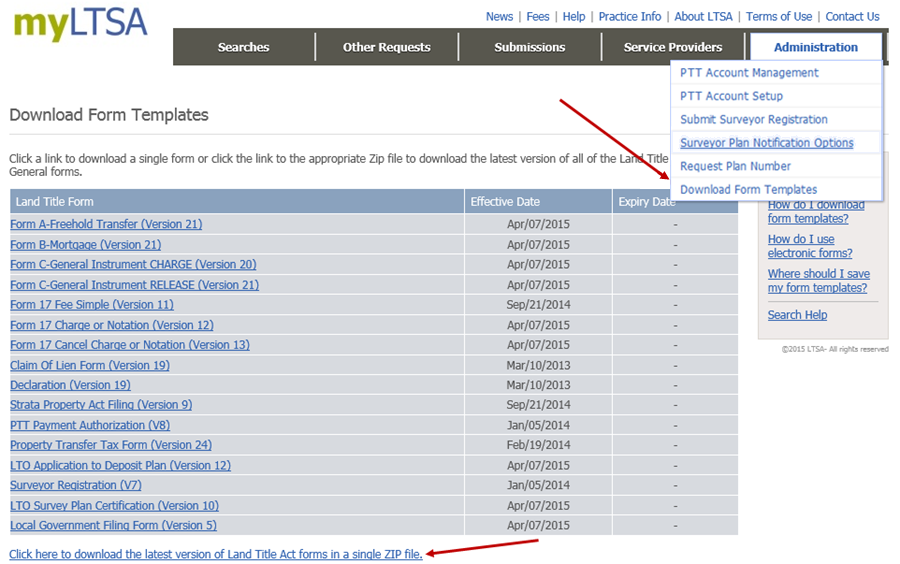 ---
The File Download page appears allowing you to either Open or Save the templates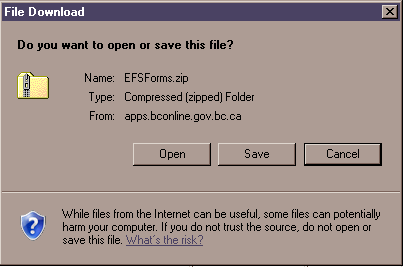 ---
Click Save As and select the folder where you want to store the templates. This saves the file named EFSForms.zip. From the folder where you have saved the zip file open the EFSForms.zip file. The Folders Extraction Wizard will guide you through the extract files procedure and saves all current versions to a folder of your choice. If saving an individual template, make sure the Save As Type is Adobe PDF Files.

---
Return to the Download Form Templates page and repeat this procedure for each electronic form that you want
Only current versions of published electronic land title forms are acceptable, and all previous versions have been retired by the Director of Land Titles. Out-dated electronic land title forms may not be accepted for electronic submission. See Land Title Forms.