Every strata plan has a General Index associated with it.
The strata plan general index replaces the Record of Bylaws and Orders sheet in a strata plan. The documents that may be listed in the index include:
Strata bylaws
Court orders
Special resolutions
Other non-restricted general filing types
If the index contains any documents, you can select one or more documents to purchase.
A search fee is charged for each index search, even if the index search result is empty and has no documents associated with the specified strata plan.
Searching Strata Plan General Index
---
From any page of the LTSA's Electronic Services, rollover Searches and click Index Search
---
Enter up to 15 alphanumeric characters in the File Reference field to uniquely identify your transaction. See Using a File Reference. Depending on your organization's account management setting for file reference, this may be a required field
---
Strata Plan General Index is selected by default
---
In the Strata Plan Number field, enter the strata plan number with prefix. See Plan Prefix Codes.
---
Click Purchase. A search fee is charged to your account and the index results are automatically delivered to the myLTSA Inbox and email if you have set up forwarding options.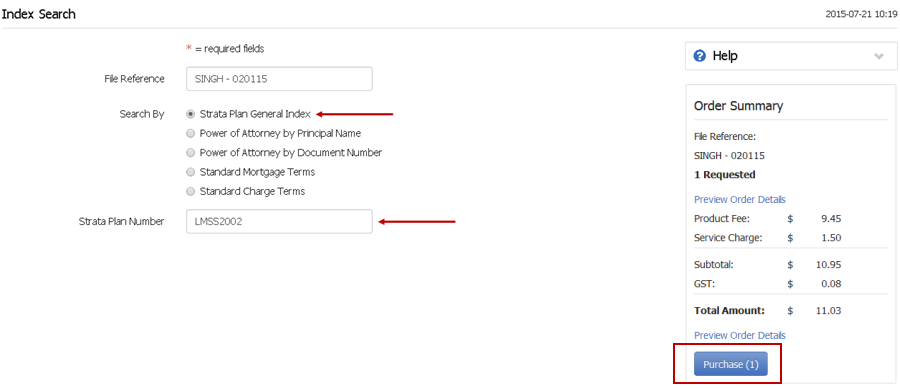 ---
The Index Search Results page will appear listing all of the documents (if any) that are associated with the strata plan you specified. Click Print Page if you wish to print the list.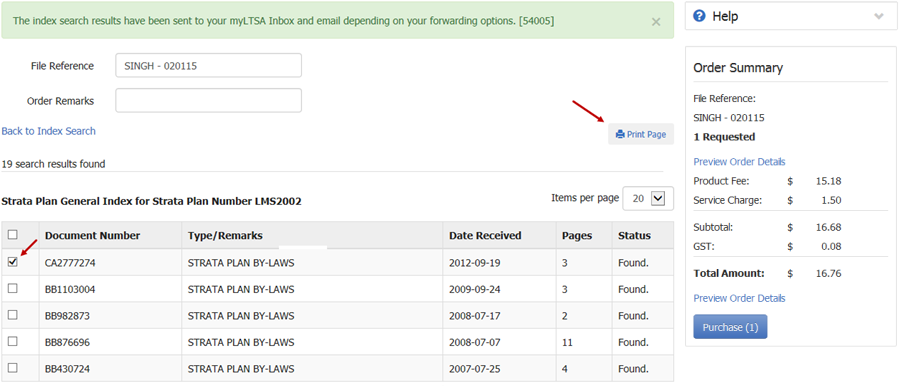 Ordering Documents
---
Select one or more documents by clicking the check boxes at the left of the page
---
Your selection automatically updates the Order Summary box with the number and cost of the selected items. The Purchase button will display the number of items you have selected. You can also modify the file reference from this page by changing the text in the field at the top of the page if desired.
---
If you are satisfied with your selection, click Purchase to immediately complete your order
-OR-
Optionally, click Preview Order Details in the Order Summary to review the details of your order prior to purchase. You can print the Preview Order Details page by clicking Print Page. On the Preview Order Details page, click Purchase to complete your order or Back to return to the Title Search Results page.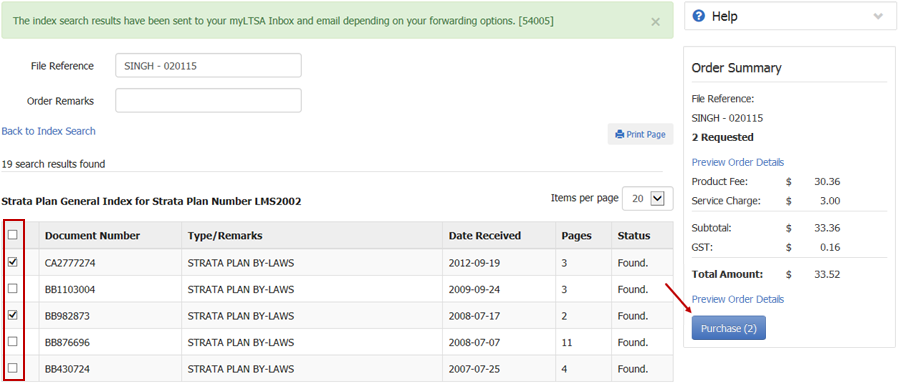 ---
The items will be delivered to your myLTSA Inbox and email address if you have set up forwarding option