Manually transfer a specific amount to your deposit account.
To conduct a manual funds transfer to your deposit account:
---
From Account Management, click the Deposit Accounts tab
---
Find the deposit account in the list
---
In the Manually Transfer Funds column, click the Manually Transfer Funds icon
You can also transfer funds when you access the deposit account details. Below the Balance Information, click Initiate Manual Funds Transfer.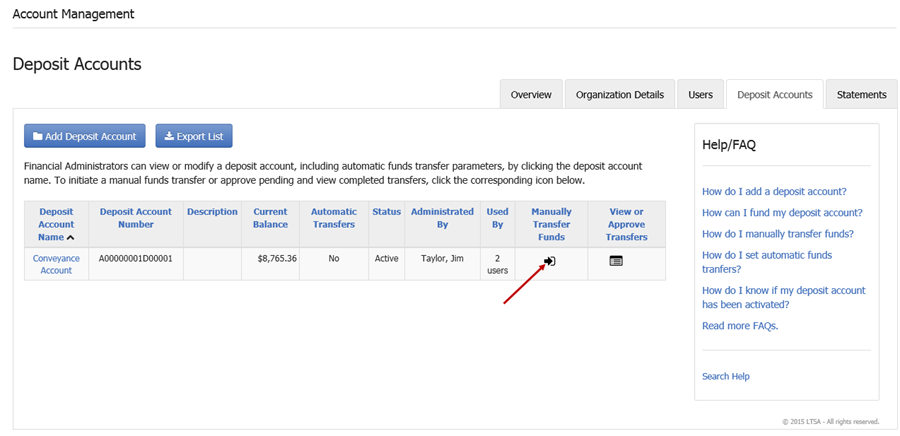 ---
Enter the amount you wish to transfer in the Amount to Transfer field
If you have just created your deposit account and this is your first funds transfer, your deposit account will need to be activated. Before you activate your deposit account you cannot transact using the LTSA's Electronic Services. For instructions on how to activate your deposit account, see Activate Your Customer Account.
---
Optionally, enter up to 75 characters to explain your funds request in the Comment field
---
Click Review and Approve to continue. If you wish to modify your funds transfer amount or comment, click Back to return to the previous page.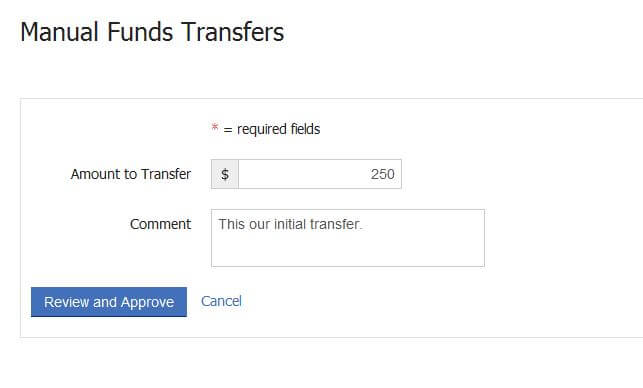 ---
On the Review and Approve page, you will be provided a summary of your pending transfer. Please review the myLTSA Enterprise Preauthorized Debit Agreement and then check the associated checkbox to agree.
---
Click Approve Transfer to initiate the transfer
If you have a single approval set for funds transfers, once you approve your funds transfer your funds will be immediately available to transact, unless this is the first transfer to your deposit account. See Activate Your Customer Account.
If your Approvals Required for Funds Transfer are set to two, another Financial Administrator assigned to this deposit account will need to approve the transfer before it can be processed. See Manage Approvals.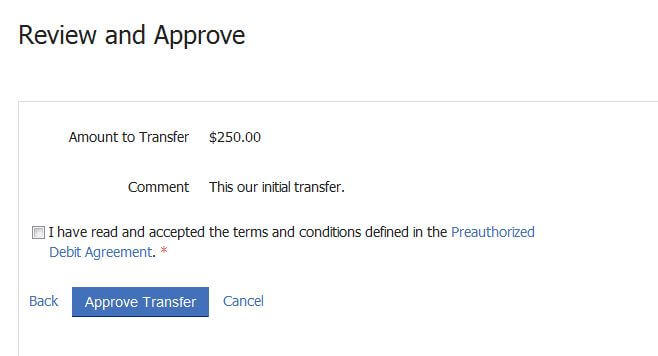 ---
To cancel the transaction and return to the previous page, click Cancel or click Back to return to the previous page and modify your funds transfer