In support of the maintenance of BC's cadastral survey structure, the Surveyor General has historically provided professional guidance to government agencies and land surveyors on survey and boundary matters.
Land surveyors may submit requests for guidance through the Surveyor General's Review.
Request a Surveyor General Review
---
From any page of the LTSA's Electronic Services, rollover Submissions and click Request Surveyor General Review
---
Your contact information will auto fill but can be updated if necessary. This information will be used by the Surveyor General Division staff to contact you.
---
Describe your request in the optional Description field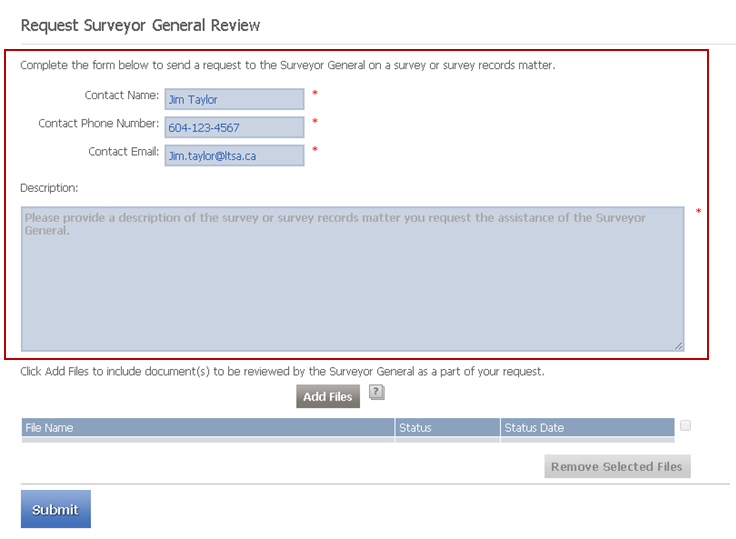 ---
If there are files that you want the Surveyor General to review, click Add Files. This opens a file browse window.
---
In the file browse window, navigate to the folder where your files are stored. Select one or more files. There are several ways to select multiple files:
Press Ctrl-a to select all files in the folder
Click one file, then Shift-click a different file to select a range of files
Click one file, then hold down Ctrl and click other files to select them as well
---
When you have finished selecting files, click Open to start the upload process. Your files always upload in alphanumeric sequence.
---
Once uploading has finished, the status of each file will be Uploaded or Upload Failed
If uploading failed, move your mouse pointer over Upload Failed in the status column to view an explanation of why the upload failed
---
You can remove any files you do not want to submit. Select the checkbox to the right of the file you wish to delete and click Remove Selected Files. See Remove Files.
---
Click Submit to send your request for processing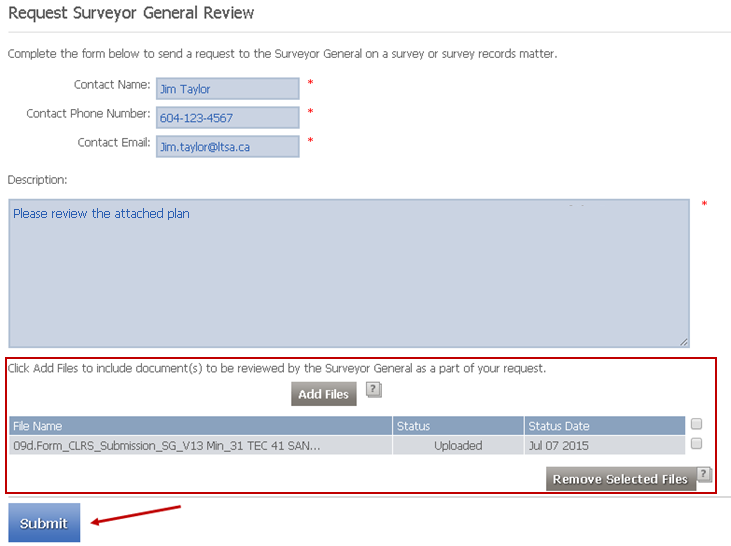 ---
Wait a few seconds for your request to process
If unsuccessful, you will receive an error message at the top of the screen explaining what needs to be fixed in order to complete your submission
If successful, a confirmation message appears at the top of the page stating that your Surveyor General Review Request has been successfully submitted