Create Web Filing Package
Currently, Web Filing is limited to the submission of the following Web Filing Forms
For Legal Professionals
Claim of Builders Lien
Declaration
Form 17 (Cancellation of Charge, Notation or Filing)
Form 17 (Charge, Notation or Filing)
Form 17 (Fee Simple)
Form A (Freehold Transfer)
Form B (Mortgage)
Form C (Charge)
Form C (Release)
For Local Government
To use Web Filing, you must install your digital certificate
Create a Web Filing Package
---
On any of the LTSA's Electronic Services pages, rollover Web Filing and click Create Web Filing Package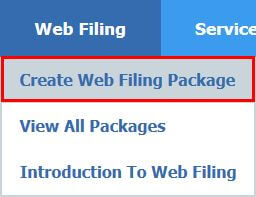 ---
The Create Package page appears with the selector defaulting to Land Title. Select (or continue the defaulted) type of application (Land Title / Surveyor General), enter your file reference (mandatory) and optionally enter a package description. Click Create Package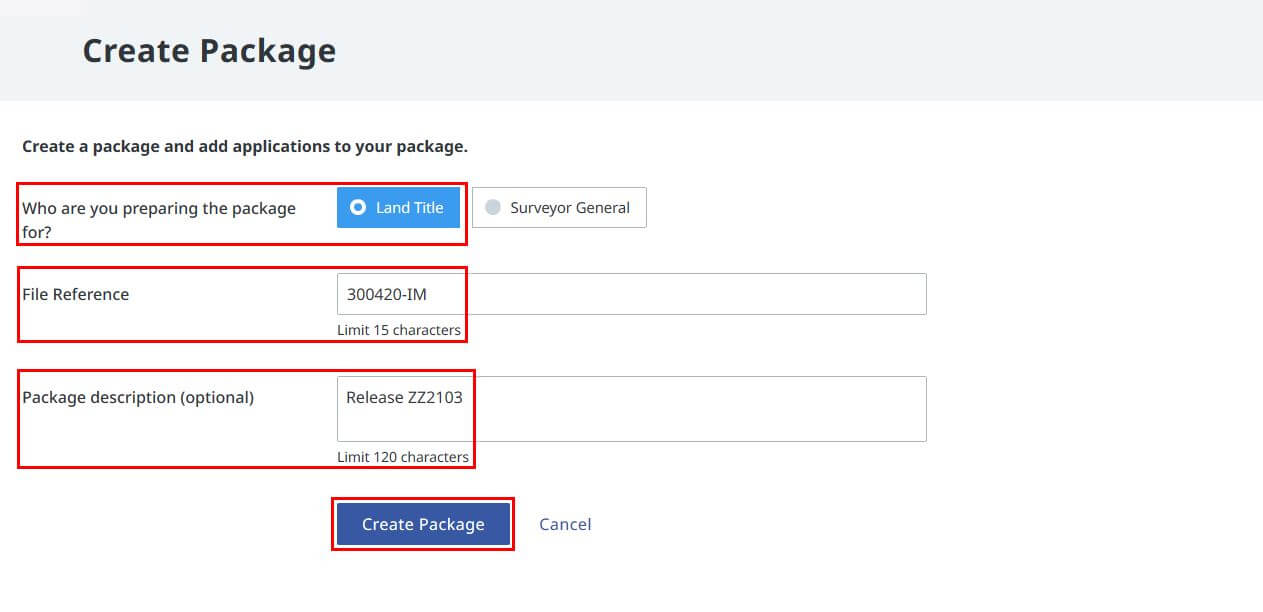 ---
The Applications page displays with a success message and your entries have pre-populated the File Reference and Package Type (submission office) fields. Click Start an Application


---
In the Add Application page click Add on the web filing form you want to include in your package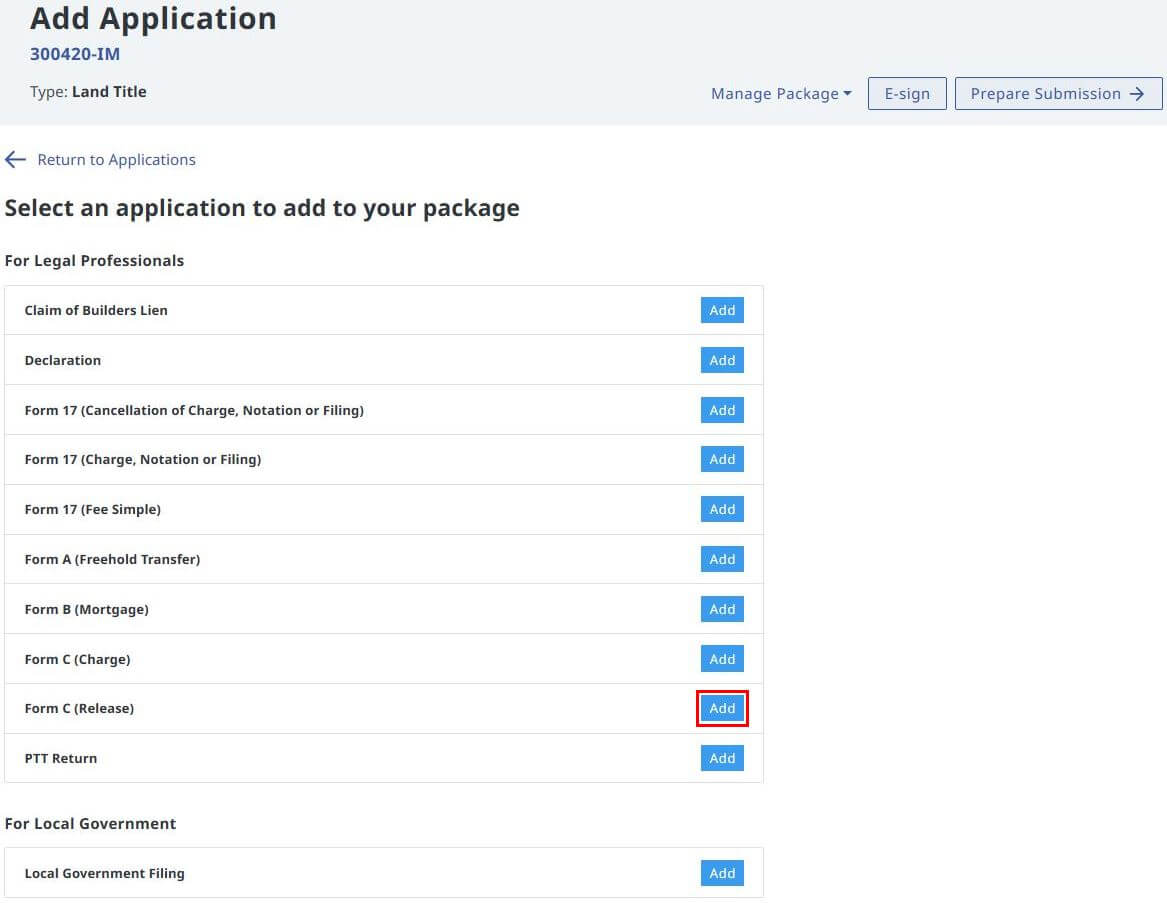 ---
The Edit Application page displays with a success message along with the web filing form type and status. Enter the applicant's information, click Done to complete the entries. Click Continue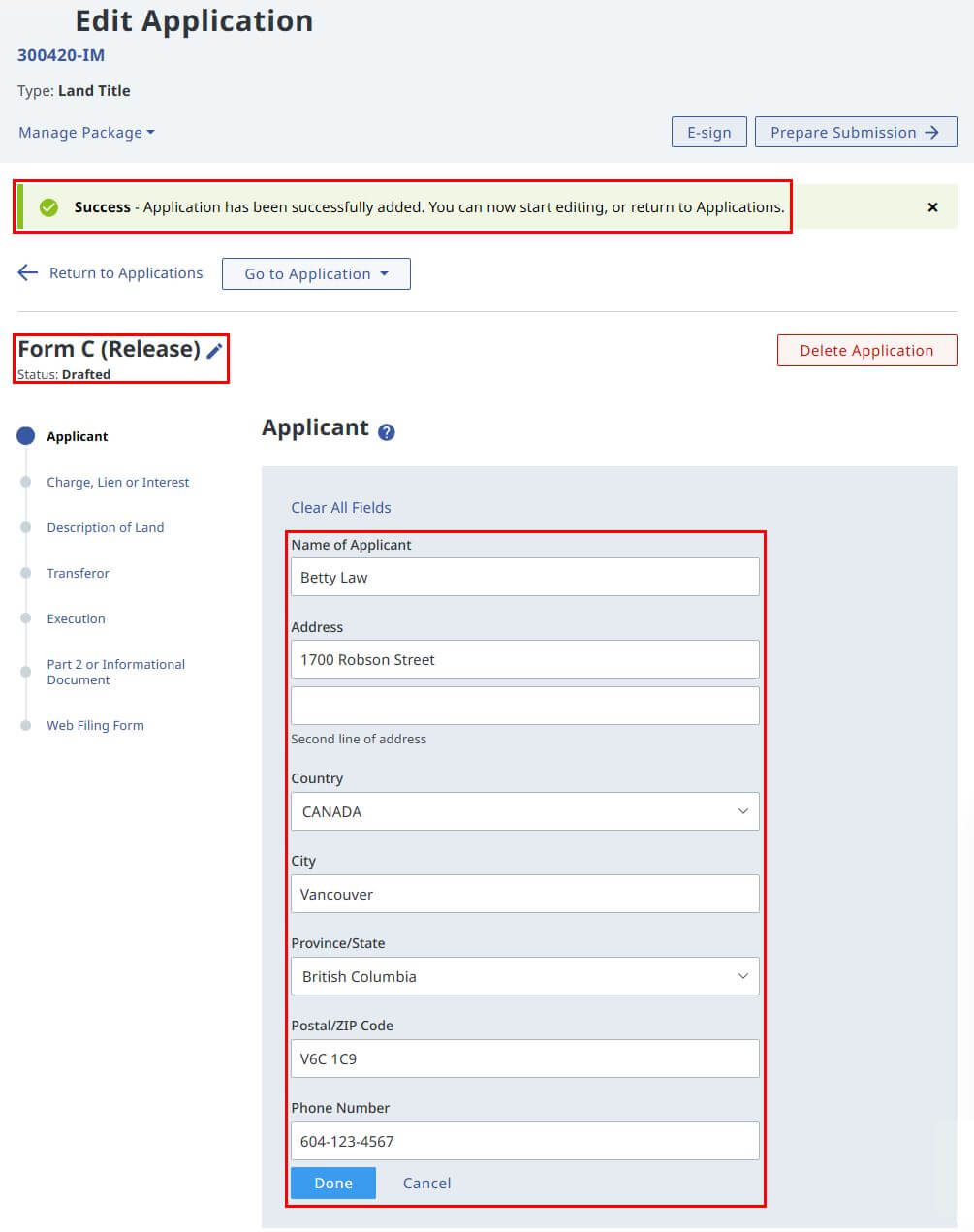 Optionally the More Information field (click plus sign (+)) can be populated with other information. Click Done to complete the entries, click Continue

A side panel navigation / status guide is on the left to provide visual notice of the editing stage you are in on the web filing form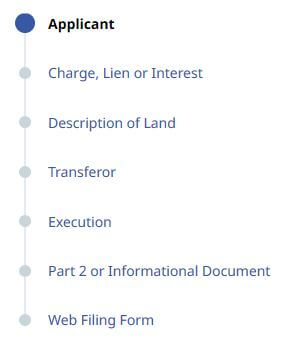 The blue circled question mark displayed beside a term or phrase is clickable On Page Help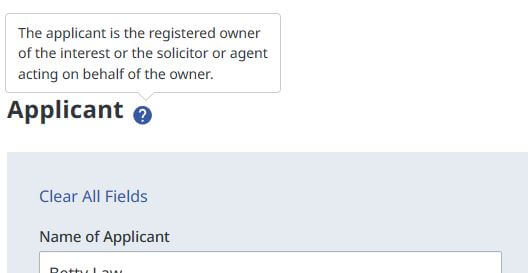 The web filing form label can be renamed. Click the pencil icon and edit the label (30-character limit), click Done to complete the entries

---
In the Charge, Lien or Interest page enter the charge number on the filing number field then choose the corresponding charge type on the dropdown. Click Add to complete the entries, click Continue
Click Save Progress to retain your completion status if you decide to leave at any stage of editing the web filing form. Clicking Continue will automatically save all data and move you on to the next section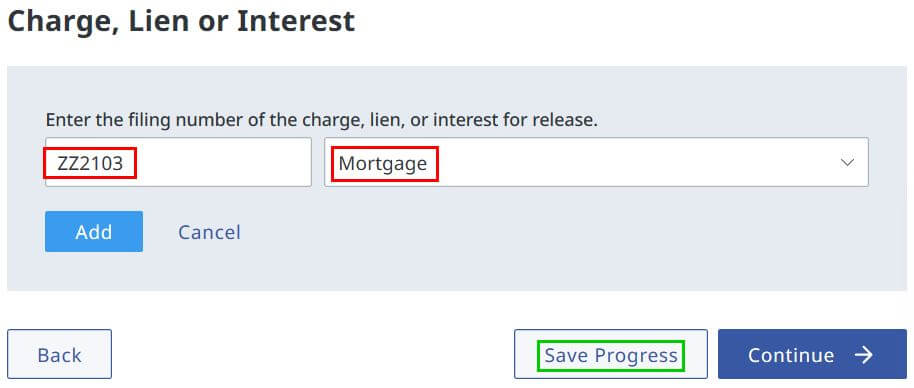 Optionally the Additional Information field (click Add Information) can be populated with information relevant to the application. Click Done to complete the entries, click Continue
---
The Description of Land page displays, click Find Related PIDs or Plan Numbers to search associated PIDs or Plan Numbers or click + Add New to add them manually. Once found click Add to List to link the charge to the PID or Plan Number
When manually adding the related Parcel ID's (PID's) or Plan Numbers, always include the dashes (-) for PID's and the full prefix (i.e. VIP, EPP, etc.) of the plan number (i.e. VIP1234) to obtain the correct legal description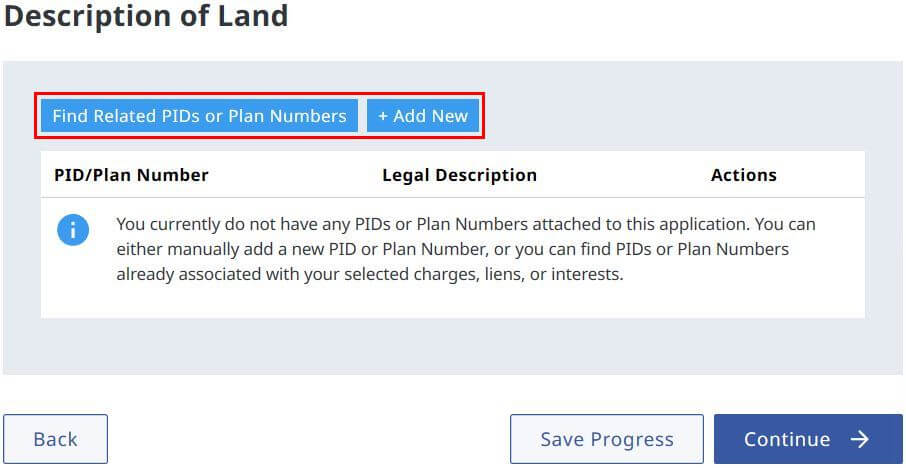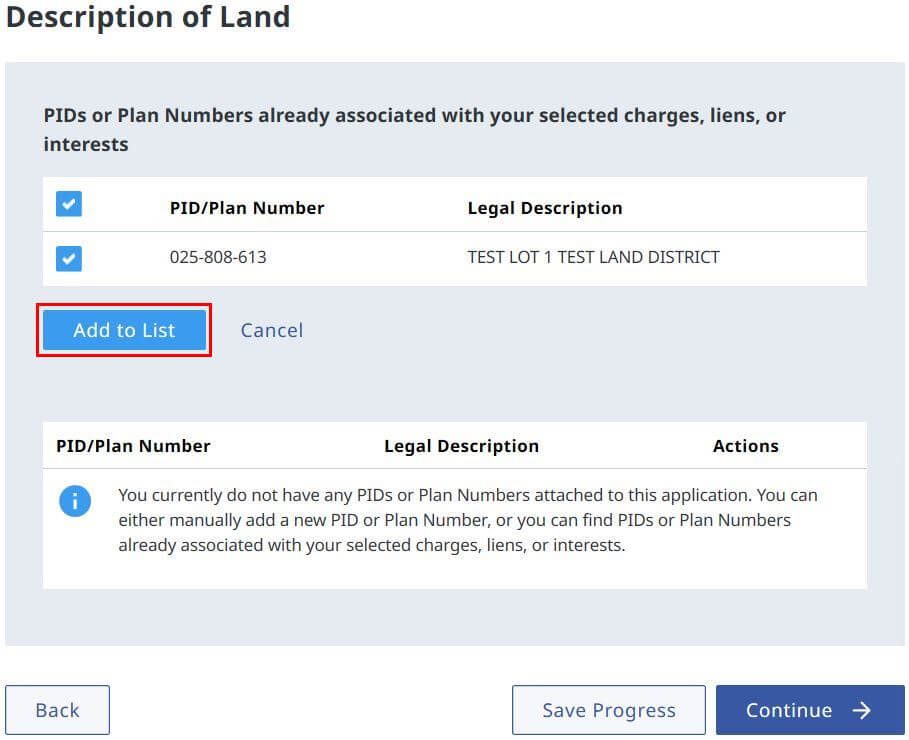 Optionally fractional interest can be entered by clicking + Enter Undivided Interest. Click Done to complete the entries, click Continue
State of Title Certificates can be ordered on this page and will be delivered electronically after registration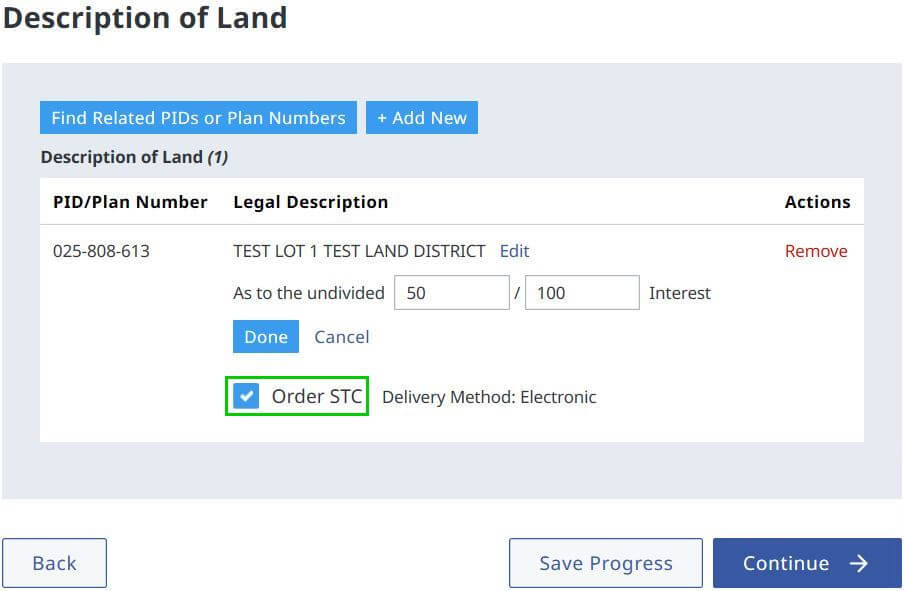 ---
In the Transferor page click the appropriate button (Add Individual, Add Corporation) for the charge owner type to add the transferor as it appears on title. Choose the transferor capacity on the drop down. Click Done to complete the entries, click Continue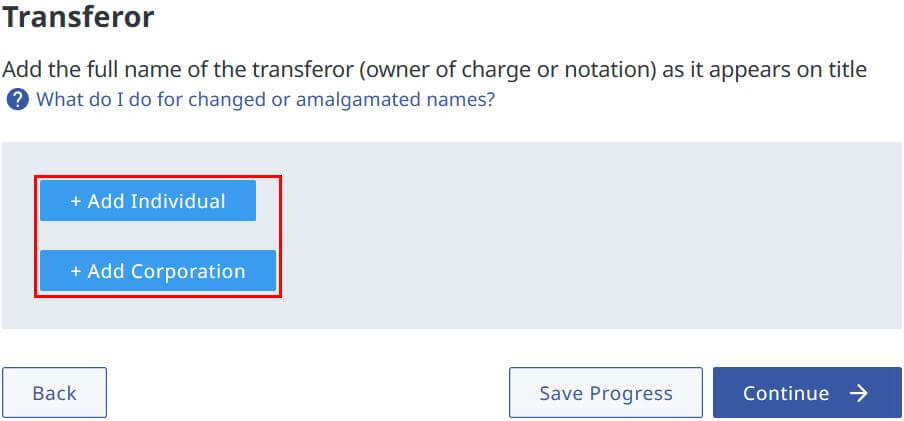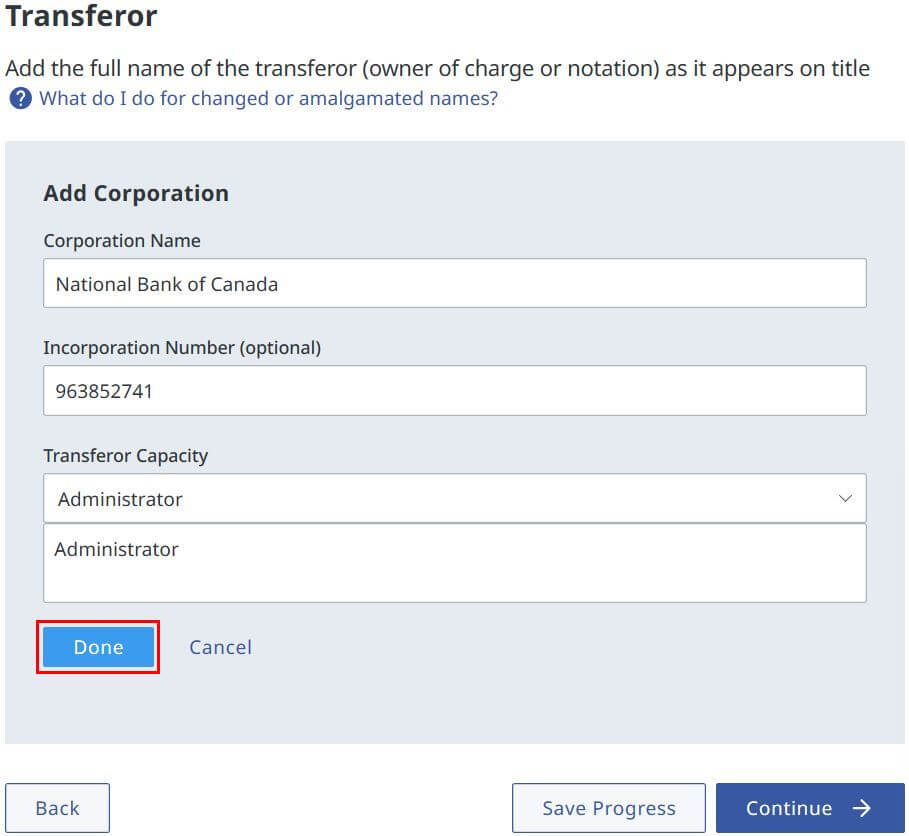 Additional transferors can be added by clicking the appropriate button (Add Individual, Add Corporation)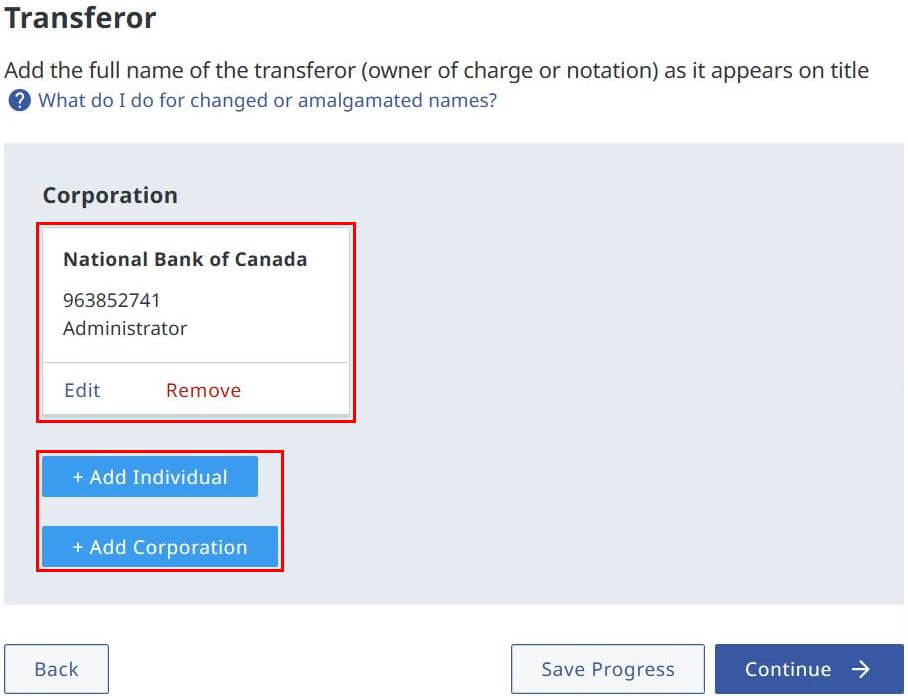 Click
Save
to the pop-up notice to retain your completion status if you decide to leave at any stage of editing the web filing form. Click
Cancel
if you want to remain in the same page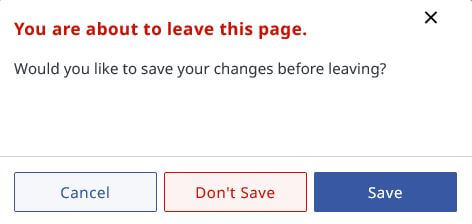 ---
In the Execution page that displays enter the execution date, witnessing officer's and transferor's details. Click Done to complete the entries, click Continue

This section may be completed after the web filing form is printed and executed. For information on aligning the web filing form with the execution copy, see Practice Note: Truing Up an Original Electronic Instrument of the Quality Verification Program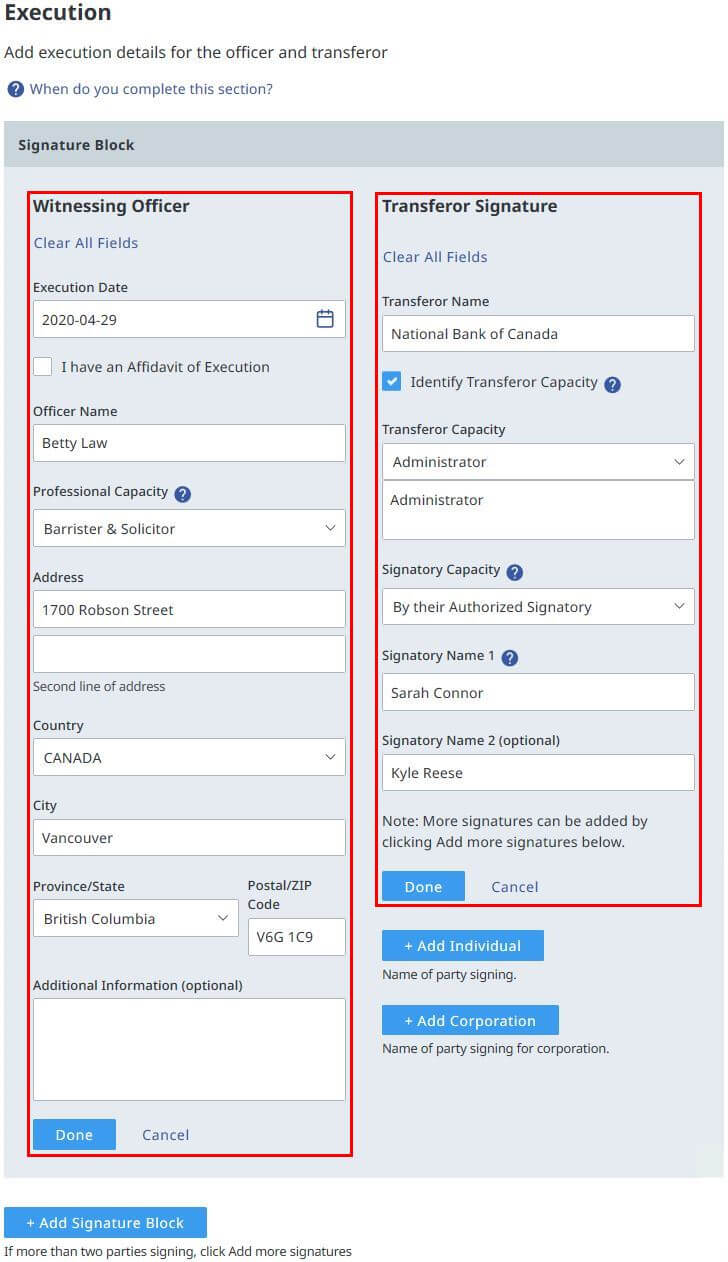 Click + Add Signature Block if more than two parties are signing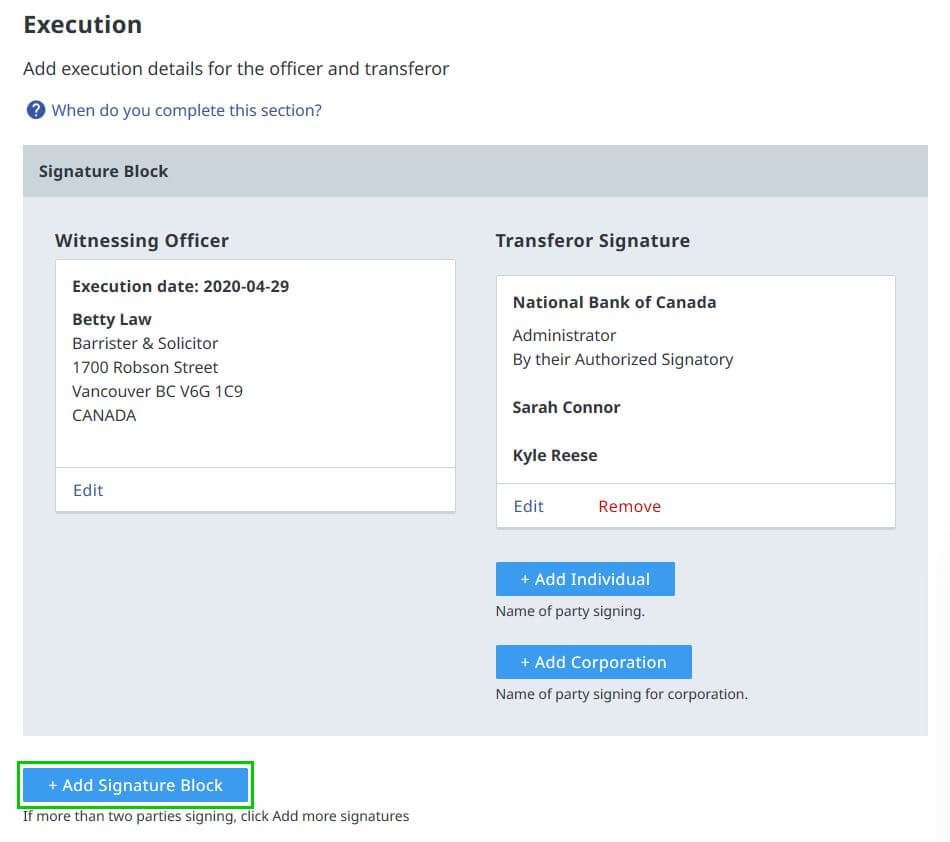 ---
In Part 2 or Informational Document page add any relevant information documents, either by dragging the file(s) onto the box in the page, or clicking Choose PDF Files to search for the file(s) in a browser upload window. If needed, rearrange the sequence of attachments. Click Continue.
Any number of attachments can be added as long as the documents are Adobe Acrobat PDF files. Each file will have a maximum size of 15Mb, and all files added must have a maximum sum of 50Mb. Refer here for the scanning requirements of original paper documents.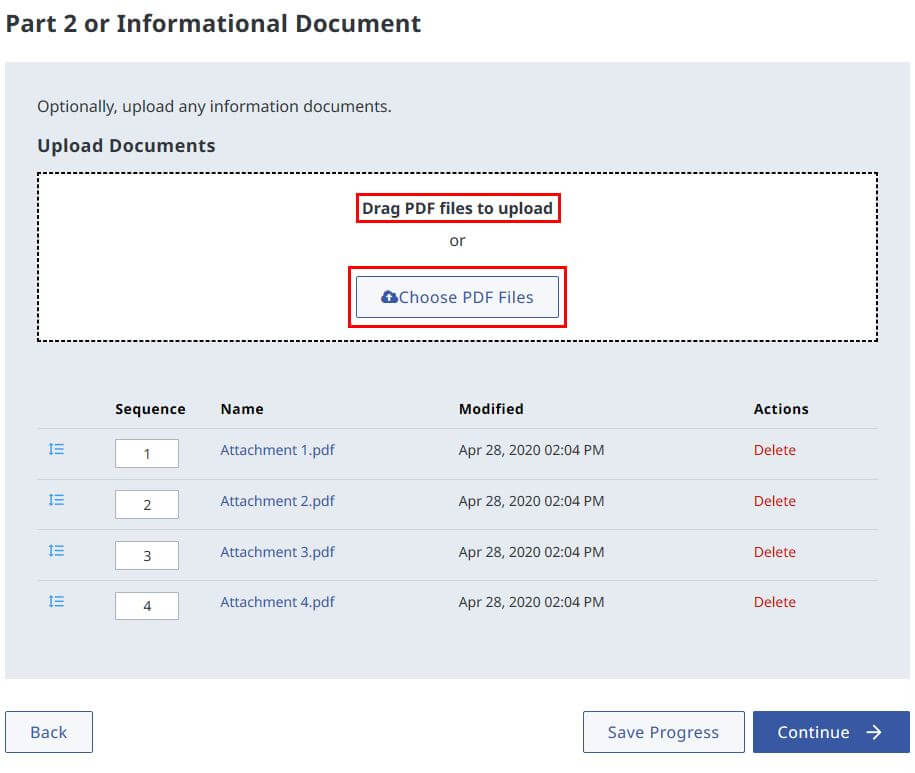 ---
Review the completed web filing form. Click Download to obtain a copy (PDF format) for printing and signing (execution copy).
The completed web filing form can be downloaded by clicking the download the Web Filing Form instead link. This is in case there are issues viewing it on your web browser
The Download button at the bottom left of the web filing form performs the same way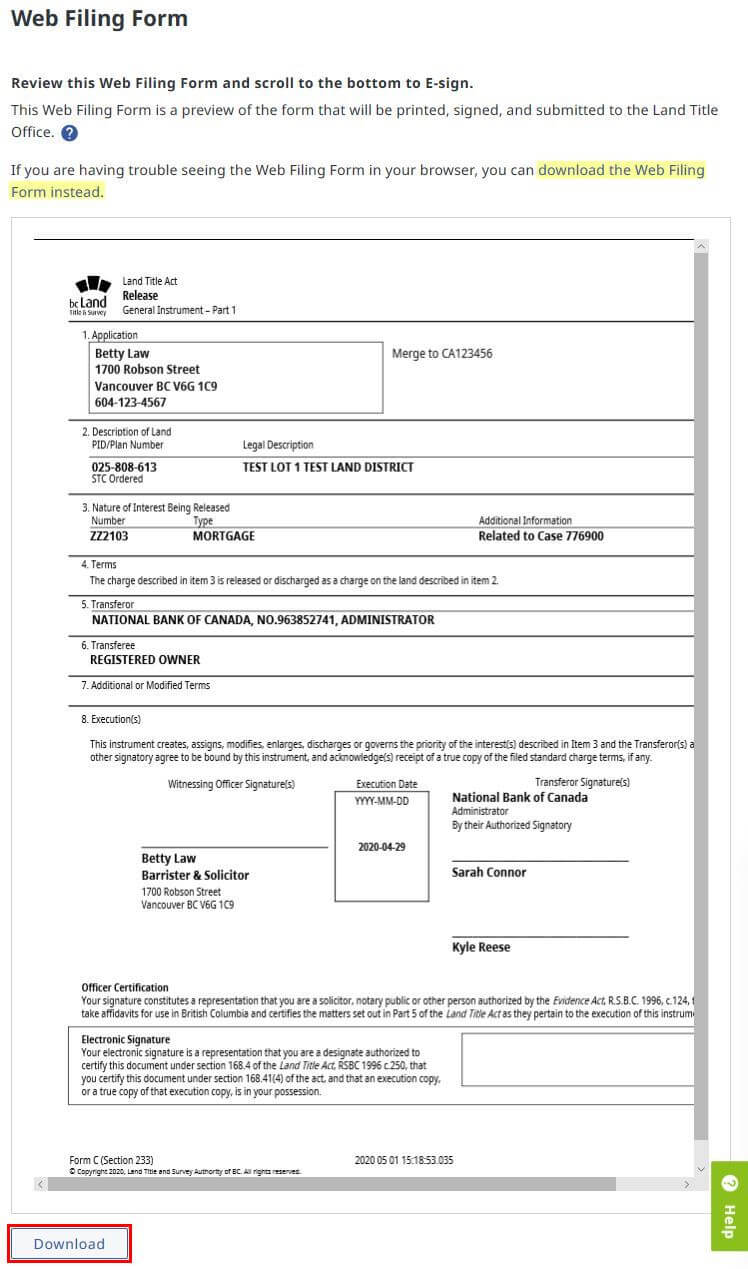 The electronic signature is at the end of the document

Related Topics